General Information
Automated License Plate Recognition (ALPR or LPR) is an advanced parking technology system that captures and stores digital images of license plates, and uses character recognition algorithms to identify and store plate characters. The system creates a searchable computerized database resulting from the mobile and fixed cameras at the University of California, Merced. The ALPR system data includes license plate number as well the date, time and location when the image was collected.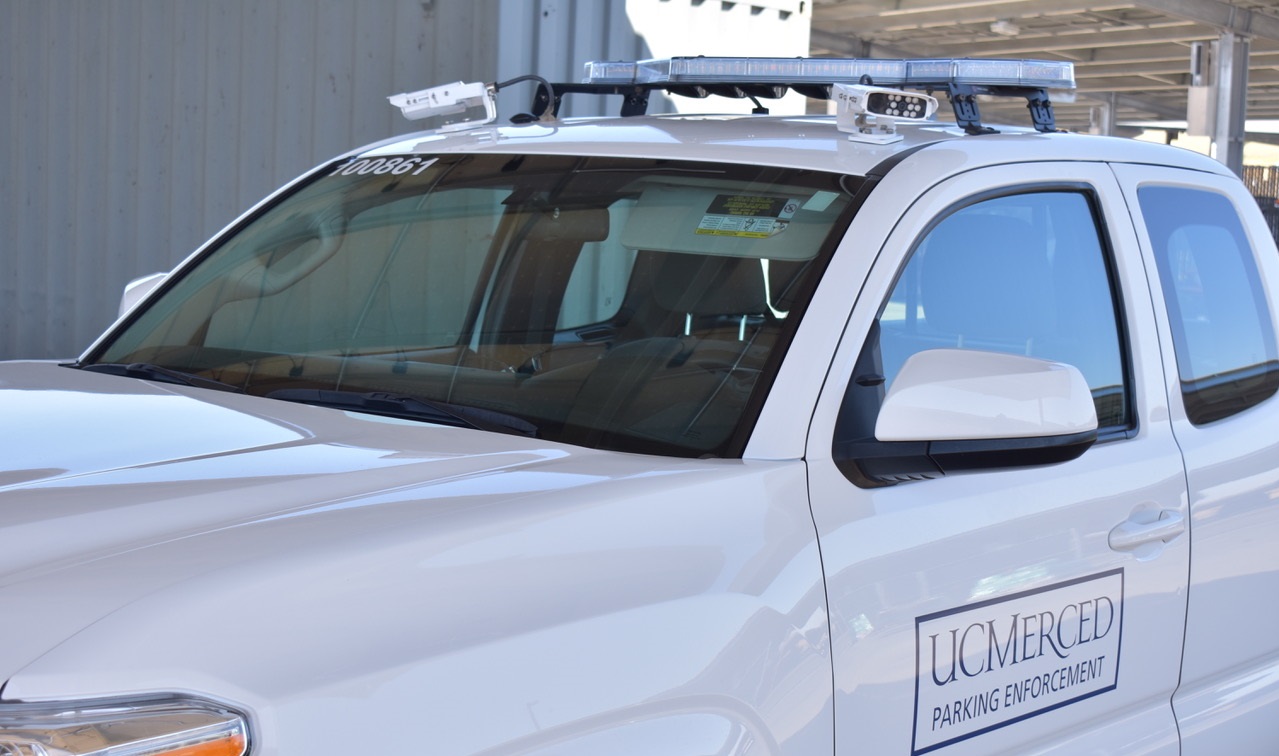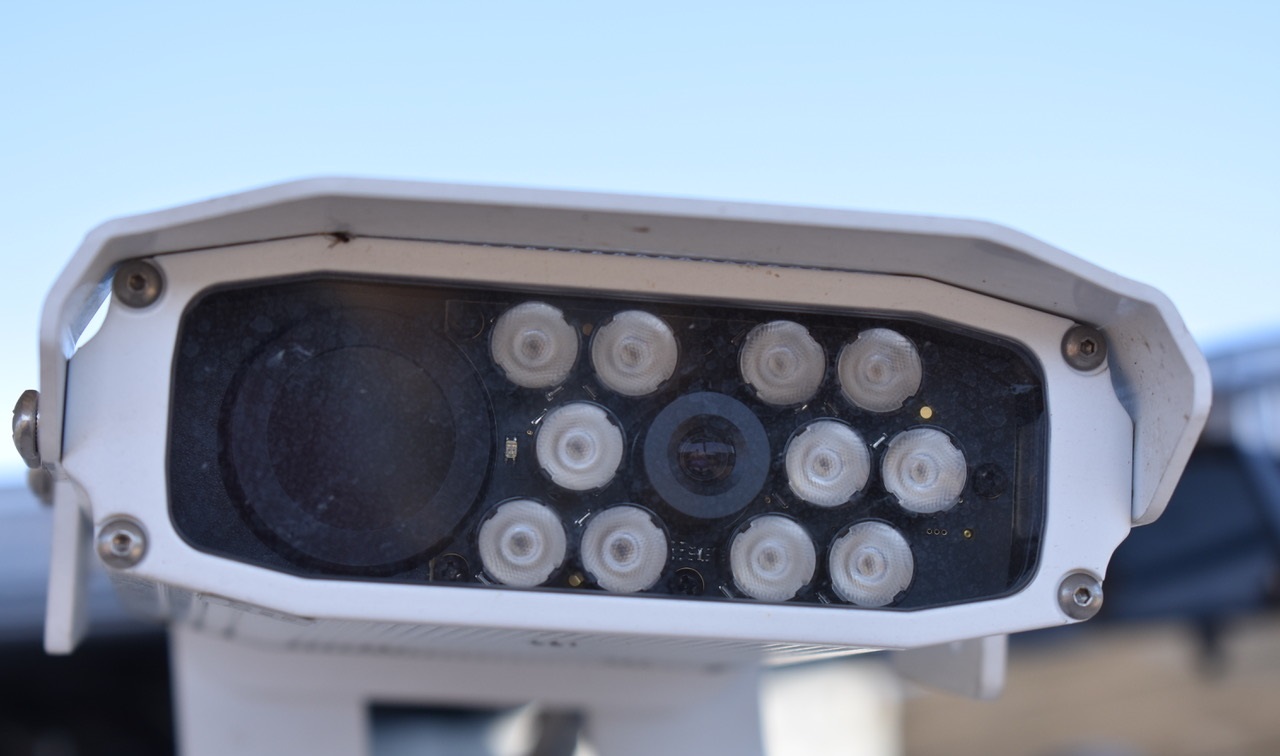 Individuals will register their vehicle plate information into My UC Merced Parking portal when purchasing their virtual permits. The LPR software then combines this information with the individual's payment and generates a virtual permit linked to that vehicle's license plate number.
When a vehicle parks on campus, its license plate is captured by cameras mounted on enforcement vehicles. LPR works similar to a supermarket scanner with your license plate functioning as the barcode. When read, the numbers of your plate are automatically referenced against the parking database to verify a valid permit and the proper parking privileges for the lot location. If the license plate and vehicle information are not associated with a valid virtual permit or the vehicle is parked in an inappropriate lot (Staff vs. Student), then the vehicle will be subject to a citation.
Eliminates the need to display physical permits and the need to move permits from vehicle-to-vehicle
Increased cost-effectiveness with the reduction of printed permits
Visitors no longer must return to their vehicles after purchasing a permit at a kiosk to place it in their vehicle
Lost or stolen permits and the associated replacement fees, police reports, and processing times will be eliminated
No more forgetting your permit, a permit falling from a rearview mirror or being displayed improperly
Option of paying for parking digitally using the WayToPark mobile app (zone 1111)
Reduced landfill waste in support of UC Merced's Tripple Zero commitment and campus sustainability
Reduced paper, plastic, envelopes and ink used in permit production and distribution
Reduced waste and litter in all campus lots
LPR scans of vehicles will record the following:
License plate image captured
License plate number
License plate state
Date
Time
Location
Vehicle registration with TAPS will record the following:
Name
ID number
Student/Faculty/Staff email address
Student/Faculty/Staff username
Driver's license number
Permit type (commuter, resident, staff, faculty)
Year, make, model, license plate number, license plate state, VIN and color of your vehicle(s)
Information gathered or collected and records retained by University of California, Merced will not be:
Sold, published, exchanged, or disclosed for commercial purposes.
Disclosed or published without authorization.
Disseminated to persons not authorized to access or use the information.
University of California, Merced shall not confirm the existence or nonexistence of information to any person or agency that would not be eligible to receive the information unless otherwise required by law.
We will only share information with:
Law enforcement without a subpoena during an exigent circumstance-type of investigation.
Title IX university investigators
Other university official investigations requested by senior staff or Human Resources.
Any other request will require a subpoena through the office of legal affairs.
License plates will be stored for no longer than 60 days, unless it is involved in a citation, open appeal case, or law enforcement ongoing investigation or to be used as evidence by a law enforcement agency. Data stored for longer will be anonymized, aggregated and used for various analytics.
Permits
New parking pay stations that integrate with LPR have been installed in and around the major visitor lots on campus. These new pay stations will not dispense paper permits, but instead will allow you to use your license plate number to generate a virtual permit for your vehicle for Daily or Short-Term parking.
Individuals will be able to purchase virtual permits online via My UC Merced parking portal. Daily and Short-Term parking may be purchased at the nearest parking pay station to your vehicle or via the WayToPark mobile app.
A small 5 minute grace period is provided to all non-permitted vehicles upon arrival to allow individuals time to purchase a virtual permit from a nearby pay station.
All parking lot privileges remain the same and are based upon your virtual permit type (Staff, Faculty, Student, etc.). Vehicles parked in areas on campus not associated with their virtual permit type will be subject to citation.
We are currently finalizing the procedure for event permitting within the LPR system. Specific information regarding this procedure will be released shortly.
The new LPR system will read motorcycle license plates in the same manner as vehicle license plates. Please ensure your motorcycle information is listed correctly in My UC Merced Parking portal.
License Plates
It is imperative that your license plate and vehicle information is current and correct in order to avoid a citation. Please visit My UC Merced Parking portal to update your information immediately after any change in license plate number for your vehicle has occurred. It is also important to delete all old or unused vehicle listings from your account. Keeping this information up to date is your responsibility.
If you have a personalized plate with less than 7 characters, or if you have a special character within your plate (heart, star, etc.), please skip the special character when entering the number into the system and simply include the remaining characters on the plate. For example, the following plate should be entered as "IUCM":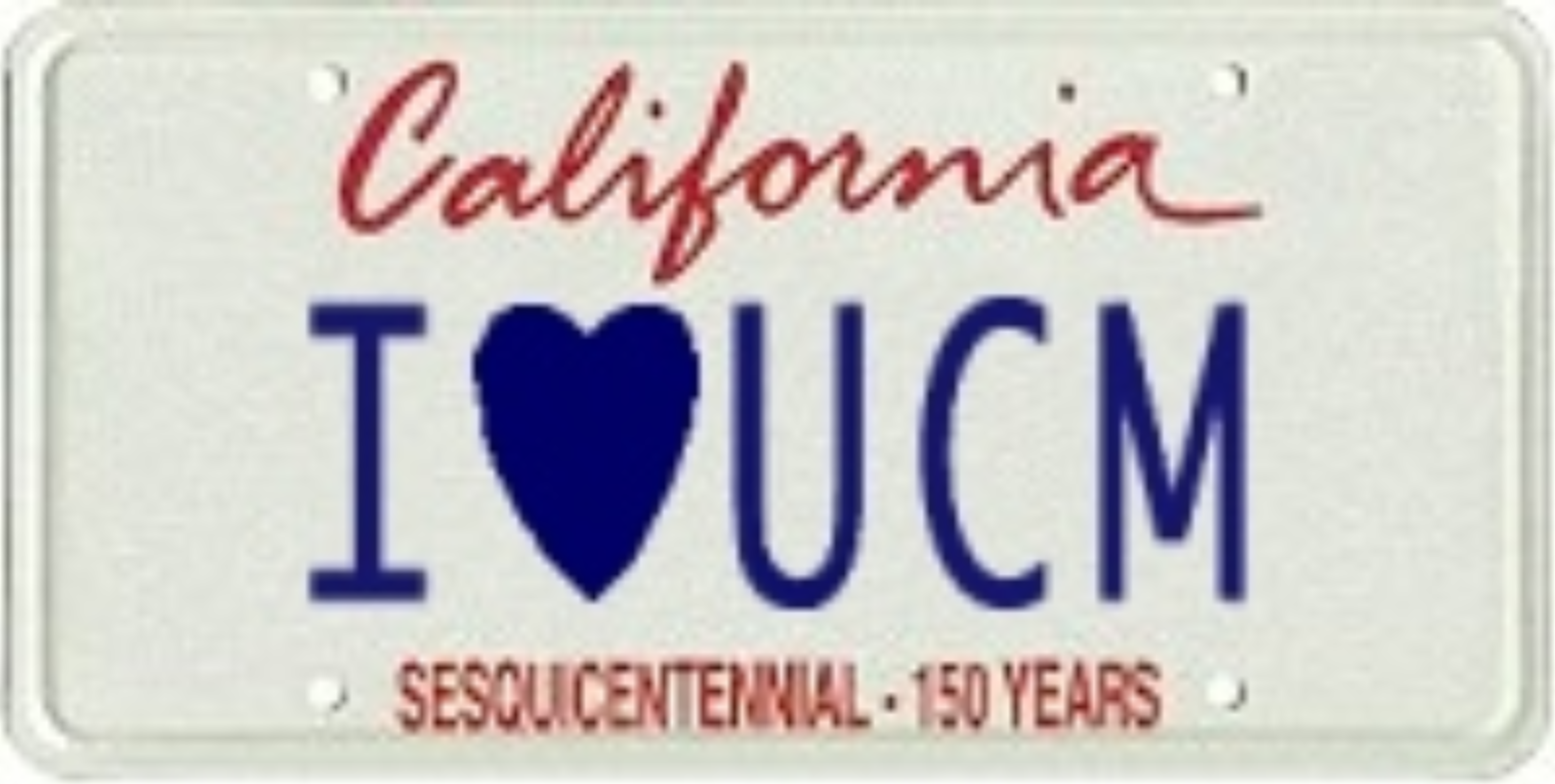 If your vehicle is registered in the State of California, the state requires that two plates be displayed, one in the front and one in the back of the vehicle (California Vehicle Code 5200). If you have a back-facing plate only, please park head-in so that our officers can see your registered license plate. Failure to park head-in will result in a citation.
As long as your plates are legal for driving, our system will be able to read them.
LPR has the ability to recognize new vehicles without state-issued license plates. If you have a new vehicle with a temporary paper license, please enter the number on your temporary license plate when registering your vehicle online. Once your DMV-issued license plates have arrived, you will be required to immediately update your information on My UC Merced Parking portal Failure to add the new vehicle license plate information may result in a citation.
Your information can be viewed and updated via My UC Merced Parking portal. You will be asked to log in with your UC Merced Net ID and password. Vehicles associated with a valid permit appear in green on the homepage of your parking portal.
Multiple Vehicles/Temporary Vehicles
Individuals are allowed to register multiple vehicles under the same virtual permit. The LPR technology will recognize the first vehicle on campus as valid, but any additional vehicles found on campus at the same time, under the same virtual permit, will be subject to citation.
Individuals are allowed to add/remove vehicles to their parking permit at any time; this includes loaner vehicles and rental cars. It is important that you remove vehicles from your account as soon as your use of the temporary vehicle has ended.
All permits are non-transferable and can only be used by the individual who purchased it. Permit privileges will be revoked for any individuals found sharing virtual permits or in violation of Parking Regulations.
Carpool permits that allow one of several people to park on campus at a time when they carpool at least three days a week are available at the TAPS office. More Information on carpool permits is available here.