Message to our Zipcar Members: 
In response to COVID-19, Zipcar, in collaboration with Transportation and Parking Services - with guidance from public health experts, the Center for Disease Control (CDC), World Health Organization (WHO), and local authorities - to address member concerns, has provided the following sanitation procedures to assure your safety while driving a reserved vehicle:
Enhanced cleaning protocols and products: We upgraded our car-cleaning with antiviral and antimicrobial solutions and have deployed incremental sanitizing procedures. We've also promoted additional healthy hygiene and safety practices within the team that works behind the scenes to care for our vehicles.
 
Employee safety education: We have educated our employees on basic health and hygiene to protect for their safety and the safety of our members. This includes basics of hand washing and proper cleaning of work surfaces. We have ordered additional supplies, including cleaning solutions and protective equipment, should they be required. We have also created protocols for managing employee health, including processes for implementing quarantines and social distancing should they be required.
 
Waiving cancellation fees: We are waiving our cancellation fees through April 30, 2020 should our members feel it necessary to change their driving plans, particularly in markets that have issued recommendations for social distancing. To learn more, visit our Help Center."
 
We also have provisions in place to ensure continuity of business operations and do not expect service disruptions as a result of the virus at this time.
For on-going external updates, visit the Zipcar newsroom (https://www.zipcar.com/press/newsroom/covid19).
As always, we strive to create a safe and enjoyable driving experience for our Zipcar members.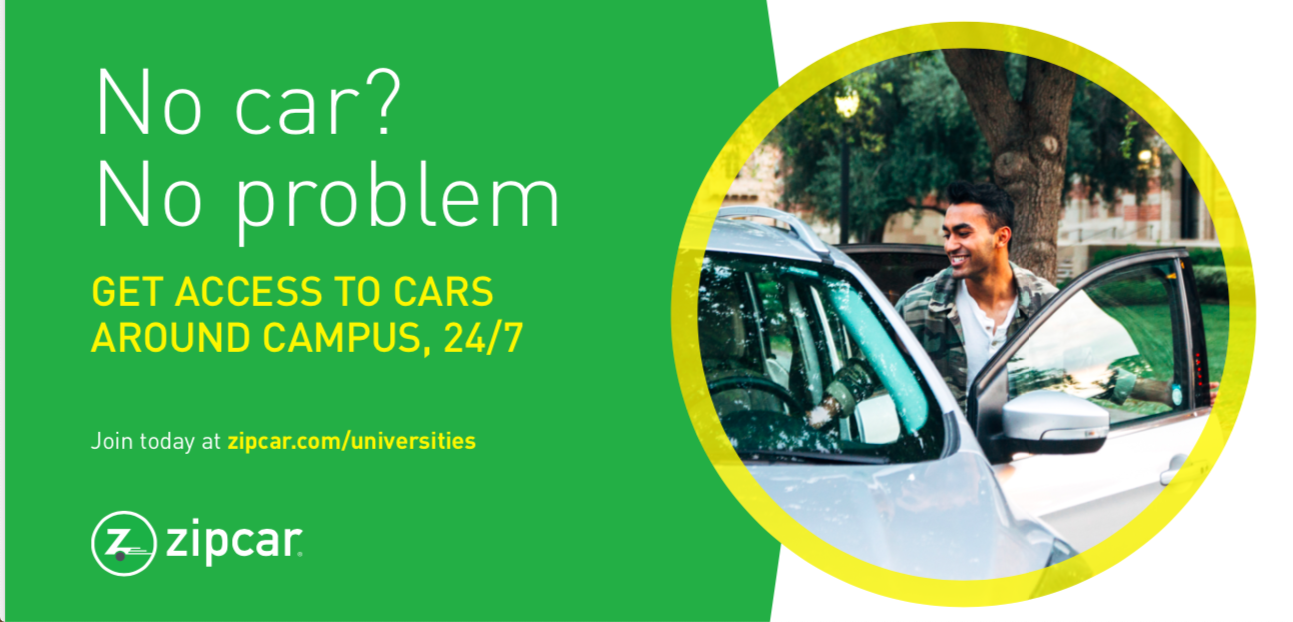 Need a car? Reserve a Zipcar! UC Merced has partnered with Zipcar to bring self-service, on-demand car sharing to the area. To use Zipcars, simply register as a member, reserve a car online or on your phone, use your Zipcard to scan into the car, and drive away. When you're done, return the car to the same location where you picked it up.
How to use Zipcar?
step 1: Apply for the membership online.
step 2: Reserve zipcar for couple hours or whole day. Reserve online or on your phone through the mobile app.
step 3: Walk to the vehicle and hold zipcar to the windshield. Doors will then unlock and key will be located inside.
step 4: When time is almost done, return vehicle to same reserved spot. Be sure to follow instructions on zipcar website to avoid extra charges.
What is included?
Gas
Insurance
Miles (up to 180 miles/day)
Your own Zipcard
The mobile app (free download for iOS or Android)
As a member you get:
Access to Zipcar vehicles 24/7.
4 vehicle locations on our campus.  
Discounted hourly rates for faculty, staff and students age 18 and older. Rates start at just $5.50/hour or $55/day.
Gas, insurance and maintenance are included for free!
Join for only $15 a year
To learn more and get started today, visit